Why Pay Hospital Prices For Your MRI?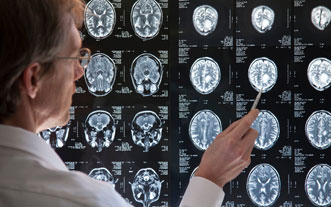 At BrightWay, our low-cost MRI's offer you substantial savings from the large hospitals that often pass their overhead expenses on to you. Talk to your doctor about which MRI is best for you. After all, where you receive imaging services is your choice. Contact us now to schedule an appointment.
What is an MRI?
MRI is a noninvasive, radiation free way to diagnose abnormalities. MRI utilizes the power of magnets, radio frequencies and computer photographic techniques to create a clear picture of the body's internal structures, allowing physicians to accurately detect and define the differences between healthy and damaged tissues.
What if I have/don't have insurance coverage?
We are in network with most insurance plans, but please call us to confirm we are in network with your plan. Some insurance companies may require pre-authorization, and we will work with your healthcare provider to ensure this has been taken care of before you arrive.
How do I prepare for my MRI?
Wear comfortable clothing. Since MRI utilizes a magnetic field, it is best to avoid wearing any clothing with metal such as zippers, metal buttons, underwire, etc. Patients should avoid wearing eye shadow or mascara since some do contain metallic materials. If you are or have been a metal worker, we ask that you inform our staff especially if you have had any injuries. We may need to do an x-ray to make sure you are free from any metal fragments.
Bring your insurance card, photo ID, and physicians order with you to your exam.
If needed you will be given scrubs to wear during your exam to ensure all metal is removed from your body. Although we do offer a locker for your valuables, it is best to leave them at home. The magnetic field of the MRI will harm your credit cards, watches, hearing aids, etc.
Since your safety is one of our number one concerns, if you have a pain pump, stent, shunt, or any other implant, please inform our staff so we can ensure it is MRI compatible.
If MRI contrast is required for your exam, you will be asked to not to eat anything for 4 hours prior to your exam. Depending on your medical history, we may require a quick blood test to make sure we can safely administer the contrast. Please let us know if you have any questions. Your comfort is one of our top priorities.
What to expect during my MRI:
To start the procedure, you'll be asked lie down on the scanning table, usually on your back. The table will then slowly move into the system. An MRI coil will be placed around the part of the body to be scanned. This acts as an "antenna" for the scanner to receive a clear signal thus allowing a better quality image to be produced.
During the 30 to 45 minute MRI scan, a rapid tapping sound will be audible from inside the scanner that will vary in rhythm. This is normal and means the scanner is acquiring needed images. Since the tapping of the scanner can be bothersome, you will be offered earplugs or headphones to wear during the exam. To make you more comfortable, we can stream your favorite radio station or music. To ensure a high-quality image, you should lie as still as possible. Immediately following your MRI, you are free to resume normal activities.
Our certified MRI technologist is always close by. They will be able to communicate with you during your entire exam. If you are ever uncomfortable, you should inform the technologist and they may be able to reposition your body.